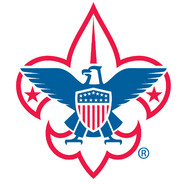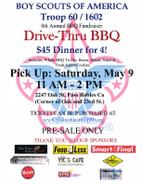 Paso Robles Troop 60/Troop 1602
2020 BBQ Ticket Purchase


---
Thank you from Paso Robles Troop 60 & Troop 1602!
The 2020 BBQ is on Saturday May 9 - pickup available between 11am and 2pm. The last day to purchase tickets is May 3, 2020. The dinner includes a Tri-Tip, bread, beans, salad, and fresh-baked cookies.
This page has been setup to allow you to pay online with your PayPal account or with a credit card. Paying online does include a PayPal service fee for the convenience of paying online/using this service. If you want to write a check or pay with cash, just bring it to the next troop meeting (Monday @ 7pm) or use e-mail below. Thanks for your support!
Thank you!
PLEASE NOTE: Every ticket purchased receives 1 entry in drawing for a FREE parking space at 2020 Mid-State Fair! (1 space at Pioneer Museum)
Each 2020 BBQ Ticket for May 9, 2020 is $46.75 ($45 + PayPal fees)
---
pasotroop60scouts@gmail.com | Troop 60 at TroopTrack | Paso Robles Troop 60 Home Page